Kelli's older Border Collies, Marli (the tri-color almost-2-yr old) and Lorelei (the B&W 6 month old) and Happy had a GREAT time playing at my brother's graduation party last Saturday. I was showing off Happy's jump 'n' tunnel skills, and decided to teach Marli, too. She is a QUICK study (though Happy learned the jumps much more quickly. Then again, he's had all 4 feet on the ground twice in his whole life.)
Here is the evidence of this (thanks, Kel, for the AWESOME pictures!)
Marli caught onto the tunnel very quickly: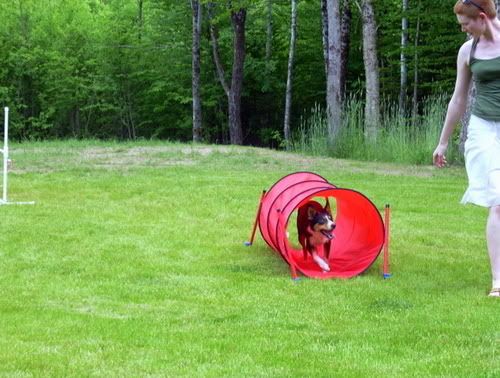 The jump took more time: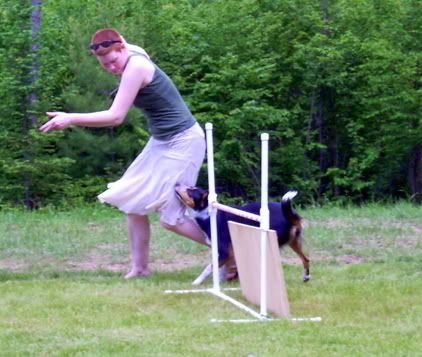 Success!!! (adding the board across the bottom helped her realize that the jump was, in fact, meant to be jumped over!)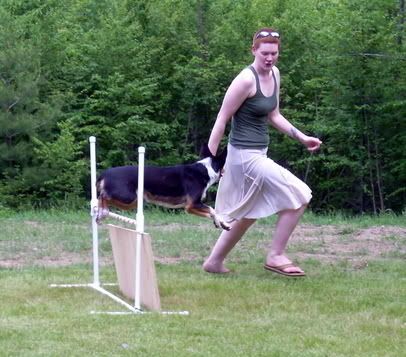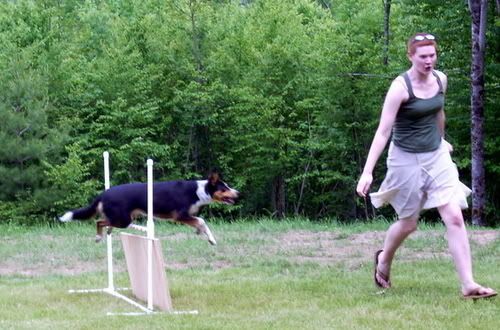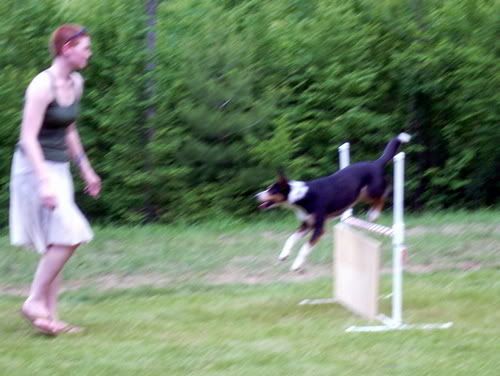 Even though Happy loooooves to jump, Marli's form is much better. She is jumping low, for speed, where Happy is jumping for height. He'll speed up, though, I think.
Happy's form: (see how much higher over the bar he is?)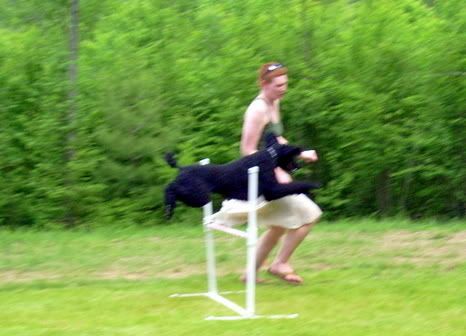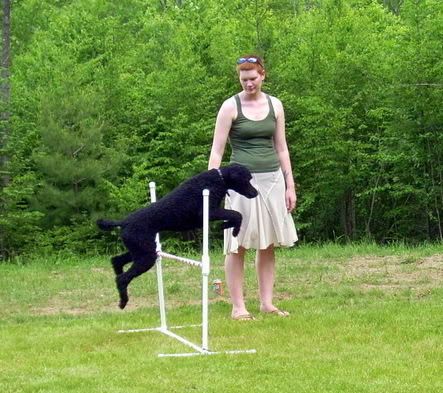 Marli's form: (just barely clearing the bars- she wastes little energy!)
Lorelei did a fair job with the tunnel, but was too fixated on shadows, bugs, pollen, molecules, radio waves, and the other dogs to concentrate.
"What is it you want me to do? Run? I can do that!"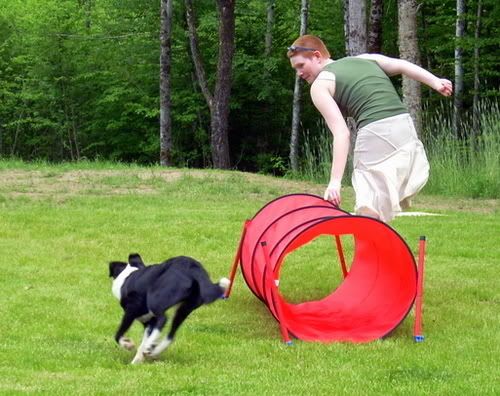 "Yes, you're holding hamburger. Yes, I'm in the tunnel. Now what? Can I has hamburger?"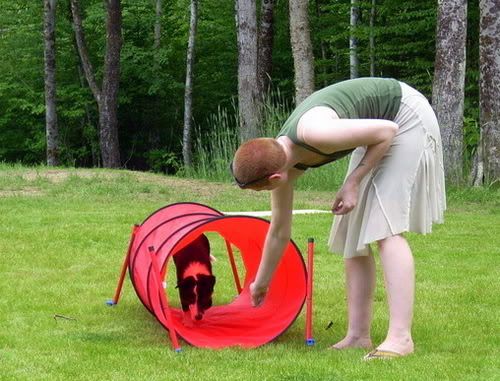 "Oh. Run through the tunnel when you say the words and point at it? Why didn't you say so?!?"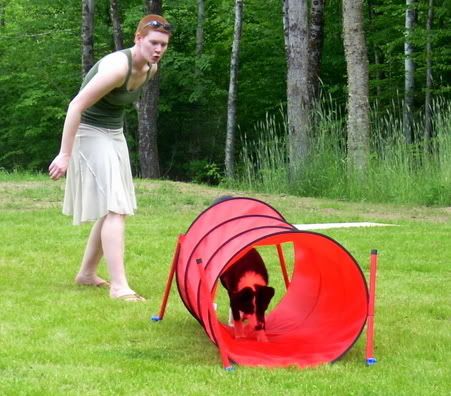 I am looking exasperated with Happy because he was supposed to go around the tunnel. This is a tough one to grasp, because tunnels are FUN.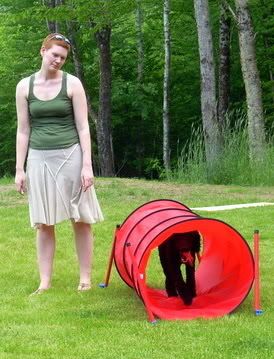 After practicing agility for a while in the heat, it was Party Time Excellent Time! Lucky joined us for this fun (he had no interest at all in agility, though he did like napping in the middle of the tunnel...) and, though he is much dumber than Kelli's Border Collies (first smartest!) and my Standard Poodle (second smartest!), he ALWAYS caught the Frisbee!
Lucky, showing us why he always got the Frisbee: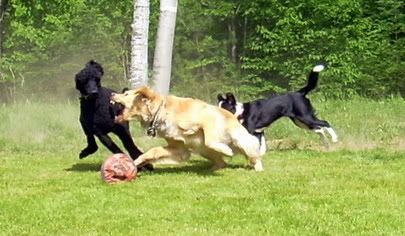 Happy doesn't obey the laws of physics or of gravity: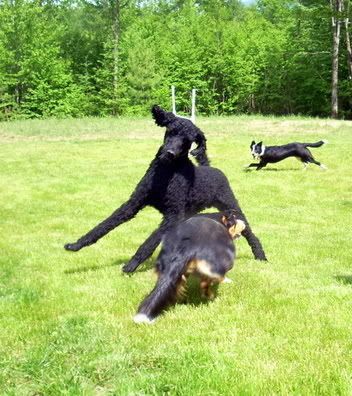 The joke's on Marli; she's not actually going to get the Frisbee: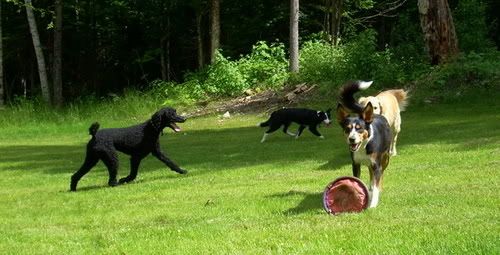 Action Team: PREPARE!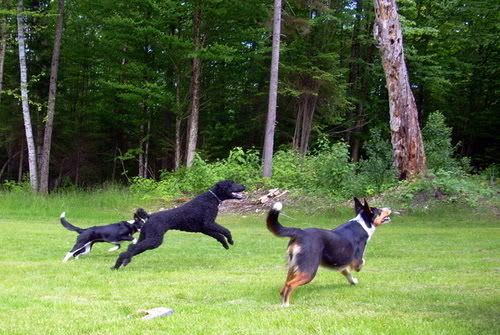 Action Team: ADMIT DEFEAT!
I took way more pleasure than normal to get 3 dogs under the age of 2 to Down-Stay whenever I asked them. They are SO SMART. (Please notice the elegant hand-signal in the far left.)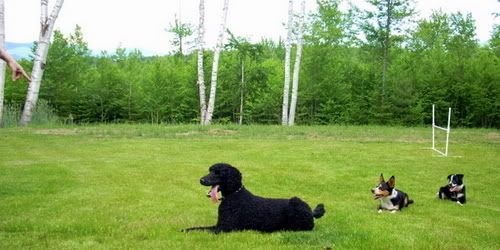 Okay, FREE!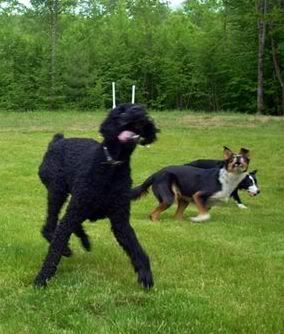 Happy is the cutest looking doofball ever:
Kelli would not let me take Lorelei home. But now that she has 2 new Border Collie puppies, maybe she will rethink that idea. See, Kelli? WE LOVE EACH OTHER SO MUCH: